A Month-Long Series of
intercultural, intergenerational, interdisciplinary
ART Events

*Celebrating our 11th Anniversary, 6th 'zine publication,
International Women's Day, and Women's Herstory month*

March 2008 in East L.A.
SAVE THE DATES!!


ALL EVENTS
@
Self Help Graphics & Art (SHG),
3802 Cesar Chavez Ave. LA, CA 90063
unless otherwise noted.
Event Explanation and Artists Involved
VISUAL ART EXHIBIT: March 8th-29th
Visual and multi-media art exhibit themed "Somos Medicina," highlighting women artists and their spirituality, specifically those who carry on traditional/native/indigena ways.
Exhibiting Artists will be some of those who paved the way for the new generation of Chicana artists and the emerging generation also— A NOT TO BE MISSED EXHIBITION!
Live Performance Event Sat. March 8th
Live Art Show with dance, teatro, and performance art. **Limited Edition MdM 'Zine available HERE**
with: Teatro Crew (Las Tres M's),
Las Manas (Bay Area, featuring: Cruz, Maya & Milta)
, Fire Dancer Poets, Yei Tecpatl (San Jose), In Lak Ech, and more!
EVENT IN SOLIDARITY WITH WOMEN ACROSS THE WORLD- celebrating INTERNATIONAL WOMEN'S DAY –March 8th. POETRY NIGHT: Thurs. March 13th
Hosted by Cyn Da' Poet
With Poets: Lilia Ramirez, Alejandra Sanchez, Lenux, Deema Debis, Xitlali, Marisol Crisostomo-Romo, and more!
Film night Fri. March 21st
Womyn Image Makers presents a night of films by women of color, curated by WIM.
Platica to follow with the filmmakers.
Self-Defense Workshop Sat. March 22nd
11-12:30pm
Instructor: Cati de los Rios (Karateka, High School teacher)
This workshop provides a safe space for women of all backgrounds, ages and sizes to learn the appropriate self-defense techniques and enable them to survive and escape the dangers in their everyday lives.
Mujer Mercado/Holistic Health Workshops Sun, March 23rd
11-6pm
All mujer Mercado at First Street Studios, to include Mujeres de Maiz artists and veterana members. The Mercado will also house the HOLISTIC HEALTH workshops done by various women.
HOLISTIC WORKSHOPS FOR MUJER MERCADO
***Are Free with any purchase from Artist Vendor or Workshop Facilitator***
11:00: Doors Open
1:00-1:30- Spa Detox by Dr. Sanchez OMD, Acupuncture Plus
1:45-2:45-Natural Birth Control by Patricia Garcia
Panochas Poderosas by Patricia Garcia
Sexual empowerment and precise anatomic self- awareness
3:00-3:20- Moon Cycle Ceremonies by Dr. Elena Esparza, D.C, Just Breathe Healing
3:20-3:50- Herbal Baths by Dr. Elena Esparza, D.C, Just Breathe Healing
4:00-4:30-Dispelling the American Food Pyramid by Dr. Sanchez OMD Acupuncture Plus
4:45-5:45-Earth Medicine, Daisy Tonantzin, Yerberia Mayahuel
"Healing Through The Cultivation Of A Healthy Environment"
-Part 1 First St. Studios
Creating Spaces For Healing
-Part 2 Caracol Marketplace
Cultivating Herbs For Healing
End Time 6pm
@
First Street Studios
2026 E. First Street, Los Angeles (Boyle Heights), CA 90033
Artist talk/Platica Wed. March 26th
Artist talk/forum/platica on the theme of "somos medicina."
Focus is on highlighting inter-generational women artists on the red road.
Music/Mujer Concert Sat. March 29th
Mujer Musica Concert showcasing women musicians/performer/rappers on one night at SHG.
With: Mystery Hangup, Cihuatl-Ce, Guerrilla Queenz, Eddika Organista of El Huru Kuroi, and more!
Closing Ceremony @ Caracol Marketplace/Jardin Sun. March 30th
Caracol Marketplace returns to its monthly home at Proyecto Jardin/Community Garden. A small closing ceremony honoring the Spring Equinox and all mujeres will take place.
@
At Proyecto Jardin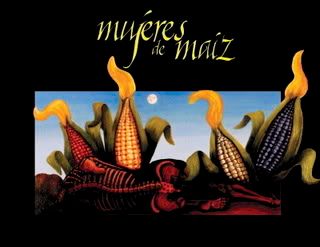 Painting by Margaret Alarcon

For More information:

Mujeres de Maiz WEBSITE

Mujeres de Maiz MYSPACE

mujrmyz@yahoo.com